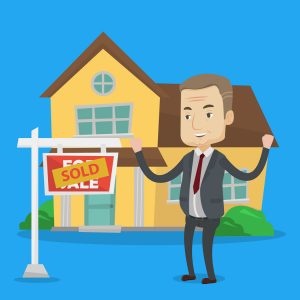 Vacating a home that you sold usually involves at least a small amount of cleaning. The standard rule of thumb is to leave a vacated house what is known as 'broom clean'. My Divine Concierge has helped countless clients broom clean their sold homes on the way out the door for the final time. We have also been fortunate enough to work with some clients who wanted to go above and beyond broom cleaning.
For the record, broom cleaning involves basics like:
sweeping the floors, vacuuming the carpets
cleaning the bathrooms and kitchen
making sure there are no cobwebs on the ceiling
dusting window and door frames.
Broom cleaning is similar to the cleaning you would do if you were preparing to have guests over for the holidays. You are not shampooing the carpets and pulling all the windows out of their frames to wash the glass. If you want to go above and beyond broom cleaning without necessarily doing those major chores, there are some little things you can do to put a smile on the new owner's face. Most of them require very little labor.
1. Leave a Welcome Note
A handwritten welcome note left inside a greeting card can be a tremendous encouragement to the people who bought your house. Leave it on the kitchen counter or taped to the door. In your note, you can comment about how many wonderful years you had in the house and express your wishes for the new owners to create their own memories living there.
2. Leave Tissue and Toilet Paper
We have helped so many people move, people who forget to have toilet paper and tissue handy on the big day. You can help the new owners of your home by leaving new rolls of toilet paper in the bathrooms and a few boxes of tissue in strategic places around the house. This simple act of thoughtfulness goes a long way toward making moving day easier.
3. Have the Yard Work Done
Those first few days and weeks in a new home are typically spent unpacking and putting things away. The new homeowners will be very appreciative if they don't have to deal with the yard right away. So in those last few days before you move, make a concerted effort to get the yard work done one last time. Better yet, have a professional come in and do it for you. You will bless the new homeowners by giving them a few weeks of not having to worry about it.
4. Leave a Gift Card for a Meal
Who really wants to cook on moving day? You can do something nice for the new owners of your home by leaving a gift card to cover their evening meal. Get them a gift card for pizza or that new Thai restaurant that just opened up on the East side. Nothing shows kindness quite like a meal.
5. Leave a 'Cheat Sheet'
Every home comes with its own quirks. The new owners of your home might appreciate a 'cheat sheet' covering some of those quirks. For example, you might be leaving behind an older dishwasher that works better with detergent packs than liquid detergent. Leaving a note about that in your cheat sheet will make life easier on the new owner.
You can go above and beyond broom cleaning to help the new owners of your home have a better moving day. If we all did a few of these simple things, moving day would be a lot easier for all of us, wouldn't it?