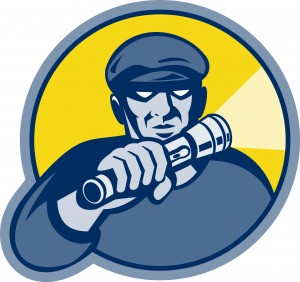 Last month we posted a blog offering our senior readers some tips for overall security. Those tips included everything from preventing falls to making sure seniors can get out of their homes in the event of emergency. We would like to expand the idea of home security this month by specifically talking about burglary. Unfortunately, a burglary occurs in the United States once every 15 seconds. No home can be absolutely safe 100% of the time, but there are some simple things you can do to reduce your chances of being a victim.
For example, did you know that keeping the front of your home, particularly your yard, free from clutter could reduce your risk of burglary? It's true. Burglars target homes where they believe owners or tenants are not very diligent in protecting themselves. An unkempt yard full of clutter gives that impression. By tidying your yard and keeping it that way, you make your property less inviting to burglars.
Interior Organization
It is always a good idea to keep your blinds closed at night or when you are not home. Moreover, even though some security companies recommend keeping them closed during the day, it is understandable that you might like to have them open to enjoy the sunlight and the view. If you are that kind of person, remember that what applies to your yard also applies to the interior spaces of your home. A lack of organization can be a magnet for burglars – especially if disorganization can be easily seen from the street.
A large bay window at the front of your home is a good example. If that bay window makes interior clutter easily visible, you could be inviting burglars to come take a look. So keep the interior spaces of your home clean and organized. When you do have your windows and blinds open, your home will be less inviting from the street.
We can carry the idea one-step further in relation to putting out your trash. If you live in a neighborhood where separate trash and recycling receptacles are used, be sure to shred anything you put in the recycling bin. Why? Because experienced identity thieves can grab a few pieces of scrap mail from your recycle bin and glean enough information to assume your identity.
Doors and Lighting
Statistics show the average burglar prefers to enter a property through a first floor window or door. They also like to enter and exit quickly, so anything you can do to slow them down reduces your chances of becoming a target. Where your doors and windows are concerned, make sure a clear view of them from the street is not blocked by landscaping elements. You may have to trim away some of your shrubs and bushes in order to open the view.
All first floor doors should be fitted with deadbolt locks and heavy-duty strike plates. This prevents a burglar from kicking your door in. Your windows can be secured with heavy-duty window locks available at your local DIY home center.
Installing adequate exterior lighting to illuminate first-floor windows and doors is also a good idea. Motion sensing lights provide the lighting coverage you need without wasting electricity. Indoors, you might want to use a few strategically placed night-lights in case you are ever startled at night by someone trying to break in. A night light will help you see well enough to get to the telephone quickly.
Unfortunately, burglary is a reality of life in this day and age. Do what you can to prevent being a victim, including keeping a property clean and neatly organized. The more care you put into your property, the more likely you will not be a target of burglars looking for careless homeowners.