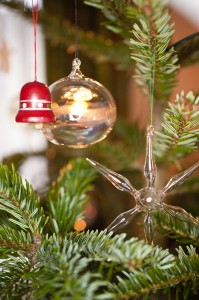 This is the time of year we begin thinking about decorating for the Christmas holidays. For young people just starting out, there are few decisions to be made. After all, it is not difficult to string one set of lights and put out that special ornament or two that came from grandma's collection. However, it is an entirely different matter for older people with a lifetime of collected decorations.
As an older person, you may have boxes filled with the decorations you and your spouse have purchased during your years of being together. But then you might also have a seemingly endless amount of handmade items various children and grandchildren have made over the years. On top of this, there are the things you bought last year in order to keep up with the times. The problem is that you do not have room to put everything out because there is just too much. Here's a tip: choose your style.
Shabby Chic … Or Not
Shabby chic is in if you are decorating for a tea party or a small, intimate wedding. It does not work well for Christmas decorating. So rather than pull out everything in an effort to display all, take a few minutes to sit down and think about the style you want to project this year. Here are a couple of suggestions:
Elegant/Refined – A style of elegant refinement is easy to pull off with white lights, some garland, a few ornamental decorations and perhaps a wreath or two. A few strategically placed red and white candles can be the touch that ties it all together.
Festive – If you are more the festive type, think color – and lots of it. Pull out those old, bold light strings from the 1970s and hang them proudly. Put some tinsel on the tree along with large, brightly colored tree ornaments. Finish it off with a touch of faux snow on the windowpanes.
Family Christmas – Decorating with the family theme is always a nice option that helps bring back memories of days gone by. A family theme includes those handmade decorations from your kids and grandkids, old photos from past Christmases, and sentimental objects that have special meaning to your Christmas traditions.
Whatever your style, do your best to stick with it throughout your home. Not only will it help you create a unified decorating theme, it will also prevent you from pulling out and using all of those other decorations that don't fit. In the end, you will have a less cluttered home that feels more like Christmas and less like the local thrift store.
Decorating Help
As fun as it can be to decorate for Christmas, you may find that your health or age does not allow you to be as active as you used to be. However, that doesn't mean you can't still decorate for the holidays. You can, with the help of your own personal concierge.
Today's personal concierge specializes in organization for the home and office. To that end, we do all sorts of things for our clients looking to make better use of their time and resources. We can help you decorate your home for Christmas, then come back and help you take it all down and store it away until next year.
If you are looking to clean and organize your home in anticipation of holiday gatherings, we can help there too. There is no job too big or small. Your personal concierge is your personal assistant here to help you make the most of the coming holiday season.