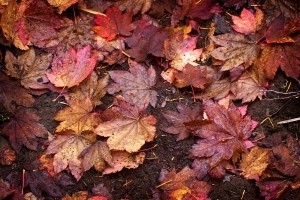 Autumn. It is the season for colorful leaves, pumpkin spice latte, sweaters and, dare we say it, decluttering. Indeed, October brings with it the start of planning for the holiday season. That planning may include decluttering your house so that you have enough room to comfortably host all of your guests.
Before you start issuing holiday invitations, take a walk around your house. Try to look at it through the eyes of a visitor. Would you feel cramped in your living room while sharing space with seven or eight other guests? Would you feel closed in by clutter if you were sleeping in the guest room? Is there actually enough room around your dining room table to use all of the chairs?
We talk a lot about spring-cleaning, but we often fail to realize that what we get rid of in the spring was taking up valuable space indoors the autumn before. So why not get a jump on spring and declutter for your holiday guests at the same time? You will have more enjoyable holiday parties and less work to do once the snow melts.
Three Rules to Live By
Through the years of helping clients declutter and clear out, we have developed a few simple rules that people can use to prepare their homes for holiday parties. These rules are flexible, so do not feel as if you are locked into them if you want to effectively declutter. It is the principles behind each of the rules that are important. Having said that, here they are:
1. 12 Week Rule – Decluttering is as much about overcoming emotional attachment as it is organization. A good way to detach yourself emotionally is to follow the 12-week rule. In other words, anything taking up space in your living areas can be gotten rid of or stored if you have not used it in the last 12 weeks. Going 12 weeks without using something means it is not part of your normal routine. It does not need to be out.
2. Practicality Rule – When you are attempting to declutter in order to free up space for entertaining, the practicality rule is helpful. This rule states that, while you will leave out some things for aesthetic purposes, you only leave out what is practical in areas where you are looking for more space. For example, that reproduction pottery from the Ottoman era may add character to your living room, but it wipes out six square feet of space. Store it during the holidays.
3. Go with the Flow Rule – One of the best ways to make your home more relaxing for entertaining is to rearrange furnishings in order to increase traffic flow. For instance, you may clean out your living room by using the previous two rules yet still feel cramped for space. Consider rearranging so that you have more open space rather than smaller spaces broken up by furniture.
It is important to understand that decluttering does not mean throwing everything away. It just means organizing, storing what doesn't need to be out, and prioritizing those things in your life that are merely aesthetic. If you can learn how to declutter for the holidays, it might be something you will decide to do on a permanent basis. Who knows, this could be the start of a completely new way of looking at things!