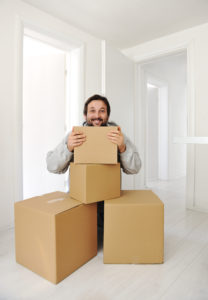 One of the most popular services we offer at My Divine Concierge is our senior moving service. Seniors moving locally can call and arrange for us to come in, pack everything up, move it to the new home, and unpack it all on the other end. But from time to time, we have clients moving either out-of-state or at least outside of the local area. We can still help on this end, but they have to arrange for help on the other end.
It has been our experience that a 'helping hands' kind of service is the best way to go. Helping hands in the moving industry is essentially what we do at My Divine Concierge. A helping hand service would meet the customer at the new home, providing the manual labor necessary to unload the moving truck.
In order to understand why a helping hands service is your best option for long-distance moves, it is helpful to look at the other three options. Keep in mind this only applies to long-distance moves. If you were to move locally, things would be different.
Option #2 – Hiring a Full-Service Mover
A nationally known, full service moving company like Atlas or Mayflower will provide the best possible door-to-door service money can buy. These national brands do the same thing we do at My Divine Concierge except on a much larger scale. They might be a good choice for a long-distance move of several hundred miles or more, if money is no object. But therein is the catch.
A full-service mover under a national brand will be very expensive. You can expect to spend thousands of dollars to start with. Also keep in mind that the expense will be greater with every mile you are moving.
Option #3 – Low-Cost Mover or Container Company
A less expensive option is to hire a low-cost mover or work with a container company. Low-cost movers are always a gamble because they tend to be locally or regionally based. Long-distance moves are passed off to contractors who may or may not be reliable. We have heard numerous stories of low-cost movers who come in, pick up the customer's belongings, and never make it to the destination. Who knows what has happened to the customer's goods?
Hiring a container company comes with the same risk. Container companies tend to contract hauling of those containers to regional and local shippers. If you choose to use a container company, make sure you choose a national brand with a good reputation. They will do what they can to protect that reputation. If something goes wrong, the corporate office can usually straighten things out.
Option #4 – Do-It-Yourself Move
The least expensive option is a do-it-yourself move involving a rental truck. It's also the most labor-intensive. But here's where a helping hand service comes in. They can do the heavy lifting, so to speak, so you don't have to.
Helping hands services typically charge by the hour. So you could pack everything in boxes and rent a truck, then have a helping hands service load the truck for you. Hire another service at your destination to unload the truck. You get the manual labor you need, at a reasonable expense, without having to worry about a low-cost mover or container company losing your belongings.
If you are planning a long-distance move out of state, My Divine Concierge would be happy to help you pack everything up and load the truck. Likewise, if you are moving into the greater New York area in the near future. We can help you unpack your truck and get your house settled quickly.