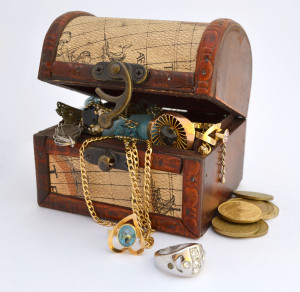 There is an interesting program that airs on the FOX Business channel called Strange Inheritance. It is a program that deals with people who leave significant inheritances to their children or grandchildren with the expectation that those who receive the inheritances will honor the requests of the deceased. Often the passing of inheritances involves collectible items that were very dear to their former owners.
One of the most fascinating aspects of the show is observing how heirs view collectibles as compared to how the original collector considered them. Sometimes those same emotional attachments exist, other times they do not. We know one thing for sure, however: letting go of collectibles while you are still alive can be heart-wrenching. We have experienced this first-hand on more than one occasion.
Lifetime Emotional Investments
When people choose to begin collecting something early in life, it is usually because that one thing they are passionate about truly excites them. Whether a collection is sports memorabilia or costume jewelry, it speaks directly to the heart of the person collecting it. Over decades of collecting, it is not unusual for strong emotional attachments to develop.
Imagine collecting sports memorabilia beginning in your preteen years. By the time you reach the age of 65, you likely have more than 50 years of collecting under your belt. And with every piece of memorabilia you add to your collection, there is a unique story to go with it. You have invested not only your money; you have invested your heart as well. Your lifetime of emotional investments is worth far more than anyone could pay in dollars and cents.
These emotional investments are what make parting with collectibles so difficult for so many. A person has his or her collectibles around for so long that it is hard to imagine life without them. So what do you do? What if a collection is so large that it must be reduced for whatever reason? There are no easy answers.
Ways to Ease the Pain
Our selection of senior concierge services includes packing, moving, and downsizing. As such, we have quite a bit of experience helping people who are struggling with letting go of collectibles. We have a couple of suggestions that might make the process easier in your case.
First, there might be younger family members who would appreciate having some of those items that you have determined have to go. Grandparents love to pass on their collectibles to grandchildren and great-grandchildren. Perhaps splitting up a collection among multiple recipients will make it possible to keep the collection in the family.
If family members are not interested, there may be a local museum that would be interested in your loved one's collection. Local museums are always looking for items they can put on display, especially if they pertain to something most of their patrons find fascinating. If there is nothing local, there may be museums elsewhere in the country that might be interested.
Lastly, the decision to make a collection available to the general public can be advertised primarily to similar collectors. For example, an antique dealer might be able to point you in the direction of a local collector interested in that costume jewelry or your pre-Columbian art.
It takes a little work to find a good home for collectibles but we believe that it is generally worth the effort. People are more willing to give up their collections if they know the items are going to someone else who will cherish them just as much. That, at least, provides some measure of comfort.