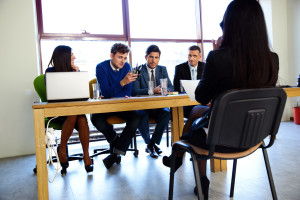 At My Divine Concierge, we help quite a few small business owners keep things running smoothly through organization. We are especially adept at assisting those running their businesses from home. Through the years, we have observed how difficult it can be to maintain sanity within a small business during the holiday season. Between the demands of customers and the importance of family, the small business owner can run him/herself ragged. This is one of the downsides of being self-employed.
We have plenty of experience in this area as well; our business tends to pick up just prior to the holidays as more and more people want help getting ready for the annual festivities. If we are not careful to pace ourselves and exercise some measure of control, we are just as susceptible to running ourselves ragged. We have to make every effort to ensure that does not happen.
Learning to Say 'No'
As a small business owner, you are familiar with the old adage that says 'the customer is always right.' As true as that principle may be, there will always be that small subset of customers more than happy to abuse your commitment to their satisfaction. You cannot let that happen – especially during the holiday season. You have to learn to say 'no' to customers who aggressively try to make themselves the most important aspect of your life.
The holidays are supposed to be about family and friends. They are supposed to be a time of year when we step back and truly appreciate those people most important to us; a time for making the shared memories that will last forever. Trust us, your family will not remember that you made an extra thousand dollars by working a 60-hour week leading up to Christmas. They will remember that you took a full day off to stay home and join the family to bake Christmas cookies.
Prioritizing Your Tasks
The annual holiday season brings with it the reality that the new year is just around the corner. As such, small business owners frequently look to the tasks of closing out the administrative year in anticipation of starting fresh on January 1. If that's all there is to do, that's fine. But when business is unusually brisk, you may not have time to think about year-end administration. The key is to prioritize your tasks.
The reality that many small business owners fail to grasp is that year-end administration does not need to be completed by December 31. You can leave it until mid-January if need be. Business is slower then, anyway. Concentrate on meeting the needs of your customers first, and leave administrative tasks for later.my
Maintain a Calendar and Schedule
With the holidays comes plenty of opportunities to do extra things with family. However, you will miss those things if you do not plan for them. We recommend that small business owners get a calendar to be used specifically during the holiday season for planning purposes. As soon as you learn of an event requiring your participation, mark it down on the calendar. Do not agree to anything in the future until you check that calendar first.
Operating a small business is challenging throughout the year. It becomes even more so during the busy holiday season. We encourage you to do your best to maintain your sanity during the season and, better yet, to make it a special season for your family by giving them your attention. Your small business will still be there in January.