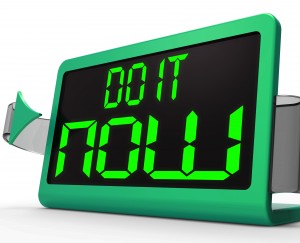 "Never put off until tomorrow what you can do today."
There is some debate as to who said this first, but whether it was Ben Franklin, Philip Stanhope or someone none of us has ever heard of matters not. The important thing is taking this sage advice to heart.
The opposite of 'never putting off until tomorrow' is known as procrastination. And it is something that plagues all of us at one time or another. At My Divine Concierge, procrastination is something we face every day. It is not that people are incapable of organizing or getting things together; it is that it is too easy to put things off until tomorrow. When we do that too frequently, we create a situation in which tomorrow never comes.
One good way to illustrate this point is to talk about your car. My Divine Concierge offers an errand running service that could include taking your car in for its annual inspection. Why would we offer to do this? Because New York car owners only have a limited window of time to get an inspection completed.
Imagine looking at your inspection sticker only to realize it expires at the end of June. It is now the middle of May, so you have about 45 days to get it done. However, keep in mind that everyone else in New York with a June expiration date will be lined up during the last week of the month to get his or her inspection done as well. If you keep putting off your appointment until the third week of June, you could be in real trouble. A better option is to schedule your inspection for the first day you have available in the first week of the month. If you cannot get your car into the shop, let us take it for you.
The obvious consequence of procrastination, in this case, could be that your inspection expires, and you get a ticket. That is not a good way to start your summer, is it?
At Home and Work
Procrastination is a momentum killer both at home and at work. At home, putting things off until tomorrow creates a gradual list of stuff that need to be done but are never got to. That's why so many people have a lingering to-do list that only grows larger by the day. The larger it becomes, the less enthusiasm there is to tackle the project.
At work, procrastination is more than just a momentum killer – it could cost you customers. Procrastination is one of the most dangerous habits a small business owner could fall into.
My Divine Concierge is available to come alongside you at home or work. We are passionate about helping our clients organize, plan and get things done. It is what we do. We do not care who was first responsible for uttering the "never put off until tomorrow" quote as long as we get to put it into practice.
It is time for you to take control of your inner procrastinator. Let us help. We are available to assist with everything from home organization to scheduling to hoarding resolution. We specialize in organized moves for seniors moving into an assisted-living facility or downsizing to a smaller home.
Remember, do not put off until tomorrow the task of contacting My Divine Concierge. Get in touch with us right now so that we can get to work.