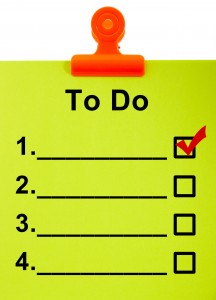 Are you familiar with Dagwood and Blondie Bumstead? This fictional couple from the Sunday morning funnies page has delighted us for decades with their humorous look at American life. One of the running themes in the Bumstead household is that 'to-do' list Dagwood dreads so much. And after all these years, his list doesn't seem to be getting any smaller. But then, Dagwood isn't alone.
We all have lists of things that need to be done around the house. For most of us, every item checked off the list just gives more room for a new item to be tacked on at the end. It is a never-ending process that can be a bit frustrating. Having said that, ignoring the 'to-do' list hoping that it magically disappears is not a very good strategy either.
Heed Our Own Advice
Parents are interesting creatures. We will tell a child to clean up his or her room, then stand in amazement when, upon visiting said room three hours later, we discover Junior has made absolutely no progress. A long talk about "just buckling down and getting it done" will immediately ensue. As any parent knows, getting down to business and getting the room clean is the quickest way to get it done so the child can get on with his or her life.
Parents are also interesting creatures in that we do not tend to heed our own advice. The dreaded 'to-do' list sits on the refrigerator, clinging to a magnet for dear life. The bottom corners of the paper are beginning to curl and yellow with time, even as all of the items remain undone week after week. Just looking at the list fills us with fear and dread. But guess what? If we would just buckle down and get one task done, the list would be one item shorter.
The key to staying ahead of that 'to-do' list is to never let it get too long. We have put together some tips that you might find helpful:
Schedule – Time is the enemy of any 'to-do' list. One of the best pieces of advice we can give is that you schedule a certain amount of time every week to handle something on the list. Just as with your favorite TV shows, that time should be nonnegotiable. Even one hour a week, for an entire year, is better than two or three spurts of a few hours each.
Small Chunks – 'To-do' lists are a lot more manageable when you divide the tasks into small, bite-size chunks. Even big projects can be divided into several smaller projects until the entire thing is complete.
Prioritize – It is a good idea to prioritize your tasks according to their individual benefits. Complete the high benefit projects first. Experiencing those benefits will motivate you to tackle the next one on the list.
Get an App – There's no point in fighting the fact we live in the new age of technology. If you are the kind of person motivated by your smartphone, there are many great 'to-do' list apps out there. If an app is what it takes to get it done, go for it.
Get Help if Necessary
There are times when a 'to-do' list becomes too large to manage. Alternatively, perhaps there are some items on the list you just cannot tackle on your own. That's okay. There's nothing wrong with getting help when you need it. That is where a company such as My Divine Concierge comes in.
Is your garage too overwhelming to think about? We can help. Do you need assistance cleaning out the basement and attic? We are available. Do you need to do a complete housecleaning followed by a yard or garage sale? My Divine Concierge is ready to jump in and help you get it done.
There is not a 'to-do' list item we haven't seen over the years. Whatever you need help with, you can rely on us to make your 'to-do' list shorter. Then you will have more time to join Dagwood for a nap.