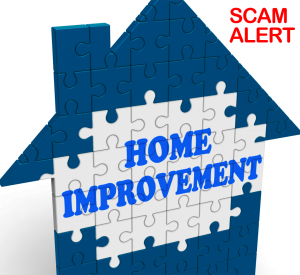 Spring is on the doorstep in North America. Spring is that time when the weather begins to warm, flowers begin to bloom, and we all get a sense of renewed hope for good days to come. Yet spring is also that time of year when police agencies get more calls about home-improvement scams. If you are planning a home-improvement project this spring or summer, protect yourself against the possibility of being scammed.
Most home-improvement scams involve paying for work that is either never completed or not done up to codes and standards. The fraudster might even take money from dozens of customers in the same area, then leave town or switch phone numbers or e-mail addresses to prevent being located. Some even use fake contact information right from the get-go.
We have put together a list of the top three ways you can spot a home-improvement scam. By the way, any industry providing services to consumers in their homes is subject to scammers. These tips apply to them as well.
1. Asking for Large Deposits
A common tactic among scammers is to ask for a sizable deposit on any work to be performed. It is reasonable to request a small deposit as a retainer, but to ask for 30% or more prior to any work being done is an immediate red flag. By no means should you ever pay for a job entirely until it is completed to your satisfaction.
A good rule of thumb is to never pay more than 10% of the total cost of the job as a deposit. If the total estimate is in excess of $10,000, do not pay a deposit of more than $1,000. Also, be sure that you get a written contract that includes the amount of your deposit spelled out clearly, along with conditions for deposit refund and contract cancellation.
2. Refusing to Provide Estimates
One of the biggest mistakes homeowners make is that of not getting multiple estimates for their work. Multiple estimates does two things for you, the first of which is making sure you are getting the best price on the work you need done. Without multiple estimates, you will never know whether you are paying too much or not.
The second reason for getting multiple estimates is to weed out the potential scammers. An honest, reliable, and trustworthy contractor will provide a detailed estimate that answers all of your questions up front. Fraudsters stay away from estimates because they create paper trails. Any contractor not willing to provide an estimate is one you should stay away from.
3. Refusing to Provide References
Responsible contractors know that references are the best form of marketing. This is why customers should always ask for three or more. If a contractor refuses to provide references, there is a good chance he is either a scammer or he just does not do very good work. In either case, he is not a contractor you want to do business with.
You can apply the same principles to all sorts of service related work. For example, we would never recommend hiring a concierge service that was guilty of any of the three things listed above. A concierge service is no different from any other service provider you allow into your home. They should be willing to complete the work before being paid, provide detailed estimates of the cost of their services, and provide references you can check.