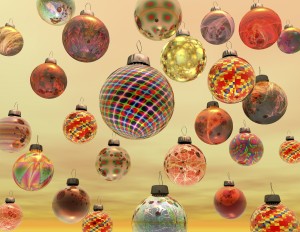 The end of January marks the end of even the most extended Christmas holidays. This past Christmas was one for the ages, but now all of the celebrations are over and the decorations are packed away. The only question is, how have you stored your decorations? Will they be safe until you are ready to pull them out next Christmas?
Christmas decorations are not necessarily so fragile that they have to be treated like a Tiffany lamp. However, they can be harmed by moisture, excessive heat, insects, and potentially damaging shocks. We have some tips that might help you in your quest to make sure your decorations make it through the spring and summer unscathed.
Use Light Reels
Nothing is worse at the start of the holiday season than having to deal with tangled strands of lights. Even worse is the possibility of broken glass if you are the kind of person who prefers incandescent bulbs to LED. Thankfully, there is an easy solution: the light reel. What is a light reel? It is a device that lets you wind up your light strings the same way you would a garden hose. You can buy commercial products that are durable enough to withstand moderate punishment yet small enough to be slipped into a large plastic bag for extra protection.
If you do not want to purchase a light reel, you can improvise by winding strings around a large piece of wood or coiling each individual string and storing it in its own plastic bag. NEVER gather a light string by coiling it around your arm.
Use an Ornament Box
Rather than store all of your bulbs and other ornaments haphazardly in a cardboard box, think about purchasing or making your own ornament box. There are retail products that resemble large tackle boxes with individual compartments and multiple, hinged layers. Nevertheless, you can just as easily make your own box with some scrap lumber or that steamer trunk in the attic. A solid ornament box will offer more protection against shock and heat than flimsy cardboard.
Bag the Tree
Owners of artificial Christmas trees struggle every January with how to best pack and store what is likely their biggest decoration. Rather than trying to cram your tree back into its original box, consider purchasing a tree bag. This handy little device acts as a tree skirt during the Christmas season. When it is time to store the tree away, you simply pull the bag up and over the tree. Handles on the sides make it easy to carry to a storage location.
You can make your own tree bag rather inexpensively if you are handy with a sewing machine. Vinyl fabric is fairly affordable as well. Whether you purchase a retail product or make your own, a tree bag will ensure your artificial tree lasts longer and looks better.
Be Creative
Our last tip for storing Christmas decorations safely is to be creative. While there are many commercial products you can buy for storage purposes, there are things most of us throw away that can be just as useful. For example, egg cartons make great storage for small ornamental bulbs. Paper towel and toilet tissue rolls provide an excellent way of storing your special table linens. And of course, plastic freezer bags are one of the most important storage inventions of the modern era.
The key to keeping your Christmas decorations safe is to protect them from those everyday hazards we do not think about during the spring and summer. If you take a few minutes to consider what your decorations might be exposed to in their storage location, you will know just what to do to protect them.