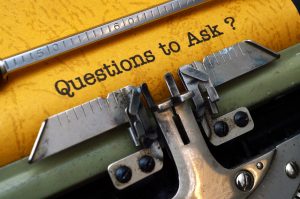 As a personal concierge service, we view what we do as a lot more personal than many other industries. We are very involved in the lives of our clients because personal involvement is necessary to do many of the jobs we do. As such, relationships are a big part of the concierge business. And at the heart of those relationships is communication. This is why we try and encourage clients to not be afraid to ask questions.
Unless you are an experienced concierge yourself, you probably don't fully grasp the extent of what we do. You may not even fully understand the particular services we are performing for you. This is normal. We do not know everything about you or your life either. Yet if either of us wants to know something, we have to ask.
It is true that there are plenty of businesses that do not like questions. My Divine Concierge is different. We welcome your questions. If you ever don't understand a job we are doing for you, ask. If you ever want to know how something we are doing can help you, ask.
Ask about Current Jobs
In the concierge business, most questions relate to the jobs we are currently undertaking. So let's say we are supervising the delivery and installation of new appliances while a client is out of town. It is quite possible that client will not be satisfied with merely knowing the job has been completed. The client may want more information.
All it takes to get that information is a phone call and a few questions. We would be happy to let the client know when the delivery and installation date is. We are happy to report on whether the delivery company arrived on time, how the installation process went, and if there are any concerns the client needs to know moving forward.
The fact is, there is no question unworthy of being asked. If we're helping you organize your garage, you may want to know how the solutions we have suggested will help you prevent returning to a state of disorganization. If we are helping you pack up and move to a smaller house, you may be curious as to the process we follow for keeping your possessions organized during the move. Anything you want to know can be learned just by asking.
Ask about Future Jobs
Another area ripe for great questions is that of future jobs. We cannot tell you how many times we've experienced misunderstandings with clients because they did not know we could do certain kinds of jobs for them down the road. When they found out we could, headaches were saved and frustration was avoided.
If you have a question about something you might need done in the future, just ask us about it. The chances are that someone from the My Divine Concierge team can make it happen. And if not, we might still be able to connect you with someone we know can get the job done.
The big take-away here is that we love questions at My Divine Concierge. Ask us anything you want about our services, our customer satisfaction, past and future jobs, and what we are currently working on for you. We will do our best to provide a comprehensive answer.