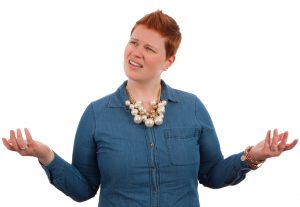 There is an interesting acronym that experienced business owners are intimately familiar with: WIIFM. What does this acronym mean? More importantly, why does My Divine Concierge care?
WIIFM means, "what's in it for me?" It is an acronym that describes the question a lot of people ask themselves while being pitched a new product or service. You need only ask sales professionals who specialize in cold calling. While they are making the pitch, the person listening gets that glossy-eyed look while thoughts of WIIFM start running through his or her head.
As for why My Divine Concierge cares about WIIFM, it is pretty simple: we believe that once our customers understand the benefits of personal concierge service, they won't think twice about hiring us. The kinds of services we offer can be quite helpful to small business owners, families going through significant life changes, and even seniors who need help with everything from running daily errands to packing up in anticipation of downsizing.
So what's in it for you? Try these five things for starters:
1. Helpful Physical Assistance
Many of our senior clients just do not have the physical stamina to do the hard work they did when they were 20 years younger. So when it comes to something like packing up the house and moving, they either have to work at it for six months or bring in outside help. My Divine Concierge provides the physical assistance clients need to pack their houses, move their possessions, and unpack those possessions at the new house.
Our physical assistance also extends to things like routine housecleaning and running errands. Whatever you do not have the capacity to do any more can be left to our hard-working staff.
2. Your Time Saved
My Divine Concierge customers often call us when they are pinched for time. They may have a list of errands that need to be done and, due to an unusually hectic schedule, no time to do them. That's not a problem. We will go buy those groceries and fill the refrigerator. We will get the laundry done and clean the kitchen. We will save you time when you need it most.
3. Invaluable Organization
Personal concierge services tend to specialize in organization. We are no exception. We take great pride in being able to walk into any room and come up with effective organization and storage solutions that get rid of clutter and put everything in its proper place. If organization is critical to your small business or your home, we can arrange it for you.
4. Someone to Take Your Place
Are you expecting an important delivery but can't be home to accept it? We can take your place. We can supervise the delivery of new appliances, new furniture, or just about anything else you have coming. We will even sign for the delivery and make sure that everything listed on the packing slip is there.
5. A Third-Party Perspective
Lastly, My Divine Concierge provides services to families undergoing hoarding resolution. Our services in this regard are especially invaluable in that we offer a third-party perspective. Our staff enters a hoarding resolution situation solely for the purpose of cleaning out the house. We are not there to criticize or pass judgment.
Now that you know what's in it for you, is there a personal concierge service you can avail yourself of? If so, we are standing by to assist you. Feel free to contact My Divine Concierge to arrange for housecleaning, errand running, house moving, or any of the other services we provide.