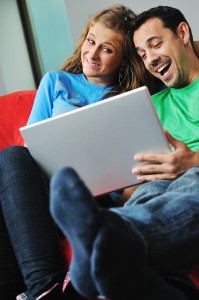 Working at home is becoming increasingly popular among a younger workforce now concerned about work-life balance. More employers are embracing the idea as well, understanding that allowing workers to telecommute can make them more productive and more loyal. If you are among the 3.7 million employees that Global Workspace Analytics says are now working from home, you are among a very fortunate group.
Keep in mind that the opportunity to work at home does not always equate to greater levels of productivity or a better work-life balance. We know that first-hand, having helped many a client organize a home office for this very purpose. One thing we have learned through years of experience is how important it is to separate your work space from your living space.
Do Not Work in the Kitchen
Let's say you have a job that allows you to telecommute three days per week. All you need is your computer and access to a telephone. Because your needs are so limited, there is a great temptation to simply sit down at the kitchen table during the three days at home. We believe this is a mistake. Why? Because it doesn't take long for such an arrangement to blur the lines between what you normally do at home and what you are supposed to be doing at work. And once that line is blurred, all hope of maintaining production and achieving a better work-life balance go right out the window.
A better option is to separate a space somewhere in your home that can be dedicated solely to your work. For example, you may be able to utilize a corner of the living room by purchasing an inexpensive office partition and setting it up in the corner. You can create a separate workspace without having to actually construct any walls.
Older couples with grown children can accomplish the same thing by commandeering a former child's bedroom and making it the home office. No matter how you do it, the idea is to create a distinct workspace. Doing so will help you remain focused, maintain a strict division between work and the rest of your life, and perhaps even qualify you for certain tax write-offs with proper documentation.
Organize Your Workspace
A second thing to keep in mind is that your dedicated workspace needs to remain organized. Otherwise, you may find yourself quickly driven out of that space and back to the kitchen table. At that point, you will have two problems to deal with: a disorganized workspace and the constant battle between getting your work done and staring out the kitchen window at the neighbor's property.
Good tools for organizing a workspace include a desk with drawers, a filing cabinet, some appropriate shelving, and typical desk accessories including a pencil holder and paper tray. Whatever you need to stay organized is appropriate for your workspace.
Having the opportunity to work from home is an incredible benefit for many people. Whether you telecommute just a few days a week or work at home full-time, you have a golden opportunity to avoid traffic jams, unproductive time spent in the car, and a whole host of other things endured by those still working at the office. Just be sure you do not create your own problems at home by not keeping separate spaces.