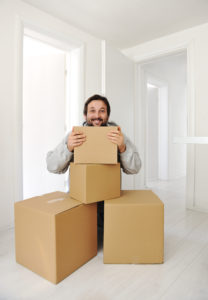 My Divine Concierge is thrilled to be able to offer clients a complete packing, moving, and unpacking service for local moves. If you are downsizing from the family home that you've owned for decades into a smaller apartment on the other side of town, we can make it happen while requiring very little effort from you. What we don't do are out-of-state moves. We mention this because out-of-state moves can be treacherous if you hire a moving company that turns out to be less than honorable.
Unfortunately, the moving industry is one that is fraught with fraud and deceit. Between federal agencies, state agencies, and the Better Business Bureau (BBB), tens of thousands of complaints are filed against moving companies every year. The story usually goes something like this:
A moving company offers a low-ball estimate over the phone without ever doing an on-site inspection of the items to be moved.
On moving day, a truck and crew arrive. The crew remains idle while the crew leader finally does an on-site assessment and decides the actual cost will be higher because there is more to move than originally estimated.
The customer is forced to pay the extra fees up front before the crew begins loading the truck.
On the other end, the crew will refuse to unload until further additional fees are paid to compensate for whatever they can find to charge extra for.
Essentially, these fraudulent moving companies hold customer possessions hostage while they continually demand more money for 'incidentals' or 'mitigating circumstances'.
How to Protect Yourself
If you are planning to move locally, we suggest you utilize a local company like ours with a proven track record and references you can call to verify pricing and level of service. My Divine Concierge is thankful for the many satisfied clients who would be more than happy to give us a reference. If you plan to move out of state, visit the Federal Motor Carrier Safety Administration (FMCSA) website before you start looking for moving companies.
The FMCSA offers a complete guide to out-of-state moving with plenty of information that will help you protect yourself and your belongings. They also have a searchable database that makes it possible for you to look at any existing records they have of the moving companies you are thinking of using. If there are any registered complaints against them, or if they been found in violation of federal regulations, you'll be able to discover that with a search. You can also check with the BBB for customer complaints and resolutions.
Here are some red flags that suggest a moving company could be trouble:
The company refuses to do an on-site inspection
A large deposit is required to reserve a truck and crew
Failure to provide a written estimate
Failure to provide the customer with the required rights and responsibilities information
A claim by the mover that possessions are covered by their insurance policy
A moving company contracting with a third-party to do the actual moving
Claims of inaccurate estimates by moving crews when it's time to pack up
Failure to provide a reasonably solid delivery date.
Established brands such as Mayflower and Atlas tend to be pretty safe for out-of-state moves. Be very wary of local or regional companies who might be very good with local moves but who lack any reputation for out-of-state moves. In some cases, you might be better off renting a truck and doing the whole job yourself rather than risking being taken advantage of, or worse, losing everything you own.