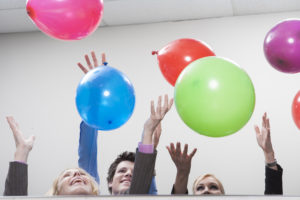 The annual Thanksgiving/Christmas/New Year's holiday season is at the doorstep. I know, it may sound a bit premature for a September or October blog post, but just remember that Thanksgiving is a mere six-and-a-half weeks from the first of October. By the time we reach Halloween, Thanksgiving will be just a few weeks away.
My Divine Concierge wants to wish you well this coming holiday season and also encourage you not to let holiday parties overwhelm you. Far too often we get so wrapped up in our plans that we don't take the time to stop and enjoy the time spent with family and good friends. We allow frustration to build, weariness and fatigue to set in, and nonstop worrying to prevent us from experiencing the true joy of the holidays.
May we offer some suggestions for a smoother and less stressful holiday season?
It's Okay to Take Shortcuts
In a perfect world, you could host your family for Thanksgiving dinner complete with all of the fixings you prepared by yourself, in your own kitchen, and with only the freshest of ingredients. But this isn't a perfect world. Give yourself permission to take a few shortcuts that will make preparation a lot easier.
For example, it's okay to purchase a pumpkin pie from the grocery store. It is perfectly acceptable to buy dinner rolls from the local bakery the day before. It is even acceptable to borrow decorations and a centerpiece for the table rather than trying to make your own from scratch.
Enlist Others to Help
A lot of people get bogged down because they insist on doing everything themselves. This is not good. If you are hosting a holiday party or dinner, enlist the help of your guests. Invite them to bring some of the food and drink items or plan the evening's activities.
Enlisting the help of your guests does a couple of things. First, it relieves you of the pressure of having to carry the entire load. Second, it gives your guests the opportunity to experience the joy that comes with helping out. Everybody pitching in to create a memorable holiday usually works out better than one person trying to do everything single-handedly.
Start Your Planning Early
You don't have to have all the details of your holiday party written in stone by the end of September. On the other hand, making plans early can help you avoid a lot of the frustrations that are the natural result of a lack of planning. So sit down with your guests ahead of time to figure out what you want to do. Plan the menu, decide who is bringing what, and other things of that nature. Once plans are in place, divide up the responsibilities among everyone involved. Then occasionally check in with one another just to make sure nothing has changed.
Forget the Postcards and Magazines
Lastly, we do ourselves a tremendous disservice when we look at holiday postcards and magazines and then dream of pulling off the perfect holiday party. Remember that those postcards and magazine pictures were staged by professionals. The scenes are not real.
Take comfort in the fact that your family and friends are real people with real flaws. None of them is perfect, nor would you want that to be. Embrace your guests with the knowledge that it doesn't really matter if baby makes a mess in the high chair and your great uncle looks like he's sleeping in the family portrait.
In the end, the most important thing is that you spend quality time with your family and friends. So don't let holiday parties overwhelm you. Relax, take a breath, and enjoy yourself.