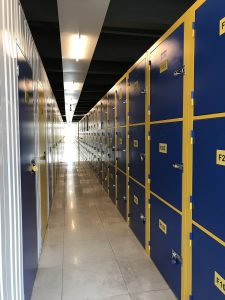 We are big fans of self-storage at My Divine Concierge. Self-storage is a great option for helping relieve your house of clutter if you are unfortunate enough to live in a dwelling that is extremely space-limited. And by the way, not having enough storage space is pretty common in the tri-state area. Our homes and apartments are by no means known for being expansive.
Over the years we have helped plenty of clients locate self-storage options in their neighborhoods. If you need help cleaning out or organizing and self-storage is an option for you, we can certainly point you in the right direction. But we do want to offer this one caution: don't just jump into a self-storage agreement without giving it any thought. There are a number of things you need to think through before you rent.
Distance from Home
In a perfect world, every one of our clients in need of self-storage would find a provider located just a few minutes from home. This is not a perfect world. When we talk about helping clients find self-storage in their neighborhoods, we are considering the neighborhood anywhere within 15 to 20 minutes from home. That's just the reality.
You may not be able to find a self-storage provider 'right around the corner' depending on where you live. So if the closest facility is 20 to 30 minutes away, it's going to take some effort for you to put things into storage and retrieve them. Will it be worth it? Only you can answer that question.
Climate Control
Most of the self-storage units constructed within the last decade are climate-controlled with both heating and air-conditioning. Older units may not be. The question you have to ask yourself is whether you will be storing items that require fairly constant temperatures. If not, you do not have to worry about climate control.
Site Security
Next is the security of the site on which a storage unit stands. There are two things to look at here, first of which is how secure the site is from the general public. In other words, some facilities are completely enclosed in a large warehouse building. That is pretty secure. Others consist of a collection of out-buildings surrounded by a gate. Either way, there should be at least some security in place at the facility you eventually choose.
The second consideration is your personal security while onsite. Even in gated and warehouse scenarios, there may be times when no one else is around while you are accessing your storage. Is the facility well lit? Will you have access to a means of egress just in case something does go wrong?
The Hoarding Question
Our last consideration has less to do with choosing a self-storage unit and more asking why it is you are considering it. Most people who rent self-storage do so because they genuinely do not have enough space at home. There are others who could be considered borderline hoarders using self-storage as yet another place to fill up. This warrants serious consideration.
Are you looking at self-storage because you cannot bear to throw anything away? Is your house so full that your possessions are seriously encroaching on what is supposed to be living space? Self-storage is not a good idea for anyone who has not mastered their possessions.
My Divine Concierge staff members are experts at cleaning up, clearing clutter, and making maximum use of storage space. If your home or office is in need of a little TLC, we would be happy to come alongside and assist you. We want to help you take back control of your space.