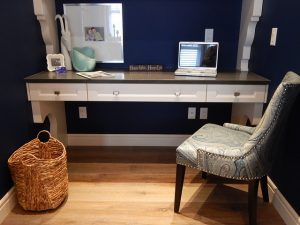 The number of people running home-based businesses continues to grow in a day and age in which corporate downsizing has become the norm. As such, My Divine Concierge is more frequently called on to help home-based business owners better organize their offices. It is something we truly enjoy doing.
Your home office is your business space. If you are able to keep it clean and organized, good for you. But if not, you could be making day-to-day operations more difficult than they need to be. We urge you to contact us for help. In the meantime, here are three reasons to consider organizing your home office sooner rather than later:
1. Tax Advantages
Owners of home-based businesses can write off the value of their home offices on their taxes – but only if the space is used exclusively for work. Experience has taught us that small business owners often have organizational issues in their offices because the space is mixed-use. Mixed-use space is not eligible for a tax write off.
Organizing your home office to create a clean separation between work and personal business instantly gives you certain tax advantages. You could attempt to write off the value of your office space even without that clean separation, but justifying it in the midst of an audit is a lot more difficult that way. If you want the tax advantage, it is better to create and maintain separate space.
2. Greater Efficiency
A disorganized home office makes your work less efficient. On the other hand, an organized office does just the opposite. It increases efficiency by putting things in the most practical places commensurate with their use. It increases efficiency by reducing the time spent searching for documents and filing paperwork. Indeed, the list goes on.
A clean and organized office is a more efficient office. For this reason alone, you should consider getting things together. Efficiency increases productivity; financial results follow. Need we say more?
3. No Surprises
We naturally assume that home-based business owners do not have clients visiting their offices frequently. In fact, a business owner who conducts day-to-day business by visiting clients at their locations may go an entire career without ever having a client stop in. But things happen. Sometimes there are surprises that result in clients having to visit the home office.
When those surprises occur, you do not need another surprise by having a messy, disorganized office in which to host your client. Remember that a disorganized office suggests to your client that you may be disorganized in your business dealings as well. That is neither good for your reputation nor your bottom line.
Home office organization is one of the many services My Divine Concierge offers. We have been working with small business owners for years to recreate their home offices just the way they want them. We can help you as well. One call is all it takes to get the My Divine Concierge team to your office and working hard to clean and organize. We will even teach you how to keep it that way.
Remember, the state of your home office will influence the success of your business. Make your business the best it can be by maintaining a well-organized home office that offers tax advantages, greater efficiency, and no surprises.