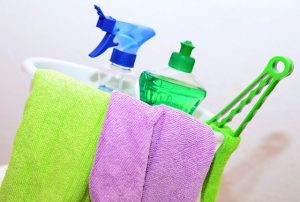 Now that Easter has gone and most of us are looking toward Memorial Day weekend, it is apparent that the time for spring cleaning is near. This is the time of year when we all start thinking about getting out of the house once again. It is also the time to clean up from the messiness that is winter.
Whether you are planning a summer garage sale, you are looking to downsize and put your house on the market this spring, or you just want to clean up and declutter a bit, you don't have to wait till the warmer temperatures of May or June arrive. You can start working on it now.
Here are five ways to get a jump on spring cleaning; each will give you less work to do when you finally get around to tackling the larger project:
1. Start Organizing Your Papers
You do not need warm temperatures and sunny skies to start filing your paperwork. You are done with your taxes, so it's time to start organizing your papers and getting them filed away. We recommend a good, sturdy filing cabinet that will fit in a closet.
Just remember to protect the most sensitive paperwork in a fireproof safe. Use your closet file cabinet for less sensitive paperwork that would not be considered critical in the event you lost it. So, for example, keep the most recent tax return in the safe while the other six years of returns can go in the file cabinet.
2. Start Using Those Leftovers
If you are like most people, you probably filled your freezer with food left over from the holidays. Do not wait until May or June just a throw it away. Instead, start using those leftovers now. You can thaw and heat leftovers to add to fresh cooked meals. Or use them to make TV dinners. Making a concerted effort to use up the leftovers now will get your freezer cleaned out before it's time to defrost.
3. Vacuum the Cobwebs
This is a great time of year to walk around the house and vacuum up the cobwebs. Getting these taken care of now will leave you one less thing to do when it's time to pull out the furniture and vacuum behind it. The nice thing about vacuuming cobwebs is that you can do it with very little effort. Just attach the wand to your vacuum cleaner and away you go.
4. Plan Your Garage Organization
If you have a garage and a normal part of annual spring cleaning is organizing that space, start working on a plan now. Assess the garage space so that you can begin deciding what you will put where. Coming up with a plan now will help you start devising storage solutions so you are not left scratching your head in the midst of the project.
5. Acquire the Storage Solutions You Need
In about a month, everyone in the northern hemisphere will be headed down to the local DIY store to buy storage solutions. Don't be among them. Start buying what you need now. You will enjoy the biggest selection and the best prices by not waiting. If you put it off until May or June, most of the best stuff will be gone.
Spring cleaning is an annual rite of passage. It's coming, and you really can't avoid it. So do these few simple things now to get a jump on what you know is only a few weeks out at this point.