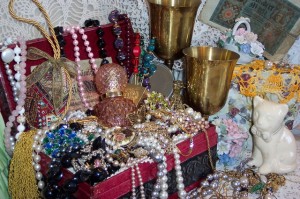 Dealing with the death of a loved one is never a pleasant experience. There are arrangements to be made and services to attend. There are other family members and friends to greet and receive. And there are legal issues having to do with death certificates, drivers licenses, insurance policies, titles and deeds, and so much more.
When all of that is finally said and done, family members often find themselves standing in the home of the deceased loved one wondering what they are going to do with all of the stuff. In the grief of the moment, one family member may suggest just renting a dumpster and throwing it all away. Then the family realizes there are many memories in that home – memories that need to be preserved and passed on to younger generations. Thus begins the process of sorting the trash from the treasures.
Because going through a loved one's personal property can be a monumental task experts suggest you follow a few basic steps that will make the process easier. The first step is to go through the home and sort the items that are personal property into 4 categories.
Items to keep
Items to sell or have appraised
Items to donate
Items to throw away
If you have a little time to spare after your initial sorting, take a few days off to absorb the gravity of what you have just done. Then gather with family members again and take a second look at each of the piles you created. You will likely find things need to be shifted around a bit.
Family Distribution
The second step in sorting the trash from the treasures is to take that pile of items you have chosen to keep and distribute them among family members. You may discover there are a number of items everyone assumed were treasures but no one really wanted in the end. These items can then be moved to the sell or throw away pile.
Experts suggest you move cautiously through this particular step. Misunderstandings and raw emotions can create an unpleasant circumstance with long-lasting consequences. Always try to be respectful of every family member when distributing items. The last thing you want to do is allow the passing of a loved one to lead to family bitterness.
Seal the Deal
The third and final step is to "seal the deal" so to speak. This is the phase in which you conduct the household sale in order to dispose of as much personal property as you can. Remember that the household sale is not about making money. It is about finding new homes for that personal property that still has value. The experience will be a lot easier if you do not dicker with buyers. If there are any items you believe are especially valuable, you might want to send them to an auction house rather than including them in the household sale.
After the sale has been completed, whatever remains is then donated or is thrown on the trash pile. At that point your job is done. It is simply a matter of making sure the trash is collected and all the loose ends tied up.
If the process of cleaning out the house of a deceased loved one seems a bit overwhelming, there is help available by way of a concierge service. There may be a personal concierge in your local area offering a service in which they will provide as much or as little help as you need. Use a concierge to help you sort, or let them sort everything for you. Let them help you with your household sale. They will even pack up what is left and make sure the trash is collected when all is said and done.
Hiring a concierge service makes the task of cleaning out your loved one's home a lot easier. Even better is the fact that concierge services are not extremely expensive. For a small investment, you can enjoy a much smoother experience and the peace of mind that goes along with it.
Contact My Divine Concierge for all your Concierge Services. We provide expert organizing services for the home and business, personal shopping, assisted living relocation services, and much more.