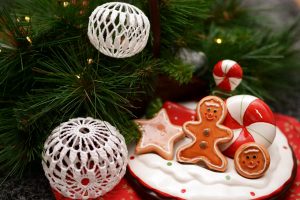 My Divine Concierge knows our bread and butter lies mainly in helping people organize what they own. Be it helping seniors downsize or families work through a hoarding issue, we Americans tend to have a lot of stuff that we just don't know what to do with. Clutter is real to almost all of us. So as we approach the holiday season, we wanted to look at clutter from a different angle: holiday decorations.
You may live in a house or apartment that, while not normally cluttered, is right on the edge. Putting up your holiday decorations is enough to push it over the proverbial finish line. The good news is that decorating doesn't have to, if you know what to do.
Placing the Tree
The Christmas tree is usually the biggest and most cumbersome decoration of all. If not placed with a little thoughtfulness it could end up overpowering whatever room it's placed in. They key is finding a prominent spot that doesn't create Christmas clutter.
Choose a prominent corner or a main wall that will create a look to naturally draw the eye as guests enter the room. To eliminate the risk of clutter, rearrange the furniture so as to allow plenty of open room around the base of the tree. You may have to actually take a piece of furniture out of the room.
Christmas Lights
We Americans love our lights. Having said that, interior lights tend to add to the clutter simply because of their visual presentation. Any plans to put up lights inside should be tempered with a mindset of moderation. If you want to go wild, save that for exterior spaces.
Definitely put lights on the tree – but not so many that they overwhelm your ornaments and family pieces. Additional interior lights are best placed around window and door frames where they can enhance the molding without being overpowering. As for where not to hang lights, avoid crown molding or stringing lights across a room from corner to corner as such strategies can make an otherwise beautiful room look terribly cluttered.
Knick-Knacks and Bric-a-Brac
The real clutter comes into play with the knick-knacks and bric-a-brac, especially for grandparents who spend years collecting little hand-made decorations from grandkids. In a phrase: don't put it all out at once. Yes, you want the grandkids to see what they made on display during the season, but you don't need to put it out until the day of their visit. When the knick-knacks and bric-a-brac do come out, confine the pieces to coffee and end tables, the mantle, and maybe on or around the tree.
The Fireplace and Mantle
In homes with fireplaces, the mantle is a go-to spot for Christmas decorations. Use your mantle wisely. If there is already ample room for a few small pieces, you might not need to remove anything. But don't create clutter on the mantle. Take a way some things and store them if need to be maintain a clean, uncluttered space.
The mantle is also not a good place for large decorative items that tend to be visually dominant. It is for smaller pieces. The exception here are Christmas stockings. They can be hung in a nice arrangement from the bottom of the mantle. Just be sure to complement their dominance with just a few smaller items on top of the mantle.
Use Garland Sparingly
Finally, use garland sparingly if you want to avoid a cluttered look. Garland, by its nature, takes up a lot of visual space with its dark color and rich texture. You don't need a lot to get a great look, so think minimalist here. A little bit on the mantle and perhaps the staircase, then a piece to adorn the china cabinet should do it.
The holiday season is here, as are the decorations. So go ahead and decorate to your heart's content. But don't overdo it to the point of creating clutter.