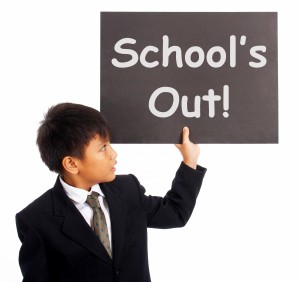 Are you old enough to remember the 1972 Alice Cooper hit, "School's Out"? If not, trust us when we say that high school seniors all over the country have made it their summer anthem every year for the last 42 years. As for you, you might still have school-aged children at home. So what do you do during the summer months to keep them from lying around the house bored and making a mess? You need ways to keep them busy.
For the first few weeks of summer, the kids will be more than happy to go play baseball or otherwise hang out with their friends from the neighborhood. However, somewhere around mid-July they will start whining about having nothing to do. That is when the video games will take over and, with them, the messy house that comes with hour after hour of mindless activity. We have a couple of suggestions that might help.
Summer Maintenance
If Johnny is looking for some extra money to purchase that new gadget he has been clamoring for, let him spend his summer earning it. There are many maintenance jobs around your house that need to be done that, quite frankly, you were planning to pay a professional for. Your kids can do some of those jobs.
For example, your kids can paint the garage just as easily as those local college kids can. They can also mow the lawn and weed the garden rather than you paying for an expensive lawn care service. Perhaps they can wash and detail the car once a week. The point is to take advantage of their need for money in a way that gets the household jobs completed and keeps your kids occupied.
Volunteer Opportunities
There are a lot of volunteer opportunities available during the summer months. Day programs for younger kids always need volunteers, as do church organizations and community youth groups. Beyond that, some of your older neighbors could probably use some help doing things around the house.
Volunteering is a way to keep your kids busy and teach them the value of helping others in need. In kids who are especially receptive, volunteering can also change their mindset around the house. You might find they are more helpful than ever at home after they have had a chance to volunteer elsewhere.
Play Dates and Field Trips
Parents of younger kids can get together with other like-minded parents and plan play dates and field trips. Parents can take turns keeping track of the kids, so others can stay home and get some work done. Where the kids are concerned, they love these types of activities. It gets them out of the house and gives them something to look forward to.
We hope these suggestions will be an effective starting point for managing your home during the summer months. If you need help with cleaning, organization, household chores or other things, feel free to contact My Divine Concierge. We offer a full range of helpful services to both residential and commercial clients.
We can help you clean and organize your garage and basement. We can help you prepare for an upcoming garage sale, and even run the sale for you if you'd like. Are you planning to move? We are available to help you pack, move, and unpack at the other end. Virtually anything you need done this summer we will consider. As long as we have the resources to make it happen, we would be happy to do so.