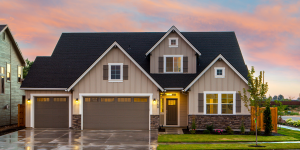 The kids are grown and gone. It's time to downsize, so you're ready to put the house on the market and see what it will fetch. You could sell it completely unfurnished and move your belongings to your new home. On the other hand, you could also list your home as fully furnished. Is there a better option among the two?
Real estate experts generally say no. They say there are valid reasons for both options, but furnishings themselves – or the lack thereof – do not necessarily constitute a major consideration when it comes time to sell. What is most important is what potential buyers see when they walk in the door.
As a company with extensive experience helping people downsize and move, we recommend asking the following questions in order to determine whether you should sell your home furnished or unfurnished.
Who is most likely to buy it?
Believe it or not, there are a few groups of people who would be more willing to purchase a furnished home than one completely unfurnished. So ask yourself who is most likely to buy your home. If you don't know the answer, your real estate agent can probably give you some good direction.
Let's say you're selling a retirement home in Florida so that you can move closer to your kids and grandkids. Florida retirement homes are very big with snowbirds who tend to go back and forth with the seasons. Snowbirds are more likely to be interested in a fully furnished home because it is turnkey. It will not require they bring anything with them other than their clothing.
If you are selling in an area known for its Fortune 500 businesses, your potential buyer might be a rental company that caters to business visitors. Once again, offering all the furnishings might make for a quicker and more valuable sale.
What makes the most financial sense?
Home furnishings and appliances can add substantially to the price of a listed home. But what are you moving to? If your new home is empty, selling your current home's furnishings means you'll be laying out cash on the other end. Does that make financial sense?
If you can get enough for your furnishings to purchase new replacements, then why not save yourself the labor and expense of having to move at all? On the other hand, losing money on the deal may be enough motivation to cause you to take your belongings with you and sell your home unfurnished.
Are there property condition issues?
Although not common, we have run into situations in which people are hoping to sell their homes fully furnished because the furnishings mask property condition issues. We can tell you right now this is a very bad idea. Buyers are automatically suspicious when furnishings are offered with a home. Many will be extra diligent about inspecting before making an offer.
Can I still stage the house properly?
Home staging has proven itself to be one of the most effective strategies for selling a home. Staging is important whether you are selling furnished or unfurnished. The question to ask yourself is whether or not you can still stage properly if you're selling your furnishings with the house.
You do not want to end up pulling things out of the house for staging purposes that are going to go back in before you move out. Why? Because this gives potential buyers a false representation of what they are buying. By the same token, you might bring extra things in for staging purposes that don't go with the house. You do not want to give prospective buyers a wrong impression there either.
There are definitely advantages to selling a home furnished. There are an equal number of advantages with going unfurnished. Home sellers have to make their determination based on their circumstances. This is where the services of home staging and real estate experts prove invaluable.