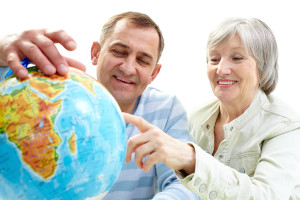 Marge is a 73-year-old former postal worker who lives with her 72-year-old retired husband in Chappaqua. After enjoying years of blissful independence as generally healthy retirees, Marge did something a few months back she thought she would never do. She contacted a concierge service and asked for help. She did not need help cleaning out the attic or preparing to downsize. She wasn't trying to solve a hoarding issue. No, Marge just wanted someone to accompany her and her husband to their next round of medical appointments.
It turns out that last fall the couple spent nearly an entire day visiting doctors and getting a couple of tests done. By the time they were ready to head home in late afternoon, both Marge and her husband were terribly exhausted. Neither felt safe driving, but they had no other options. They have no family that lives nearby, and most of their friends are also seniors and would be in no position to drive the 10 miles to pick them up. So they took it slow and worried about their safety all the way home.
Companionship for Routine Activities
Marge's story is not all that unusual. In fact, My Divine Concierge gets calls all the time for companion services. Sometimes a companion makes a big difference for seniors working through routine activities like grocery shopping, going to the bank, and even keeping medical appointments. A companion can do everything from handling all the driving to simply making sure all of the errands on the list are completed.
Providing companion services is one of our favorite things to do at My Divine Concierge. While it's true that our list of services includes things such as packing and moving house, organization, cleaning and downsizing, being able to provide companion services allows us to help our clients in a very personal way. We get to know them and be involved in their day-to-day lives in ways that otherwise would not be possible.
In Marge's case, being a companion to her and her husband means providing just enough help to make sure they get safely through the day without robbing them of their independence. This is extremely important to a lot of seniors. They know they need help, but they are afraid to ask for fear of younger family members taking away their independence. That is not a problem with the concierge service.
As an older person, you may find you need the help of a companion from time to time. My Divine Concierge, or a similar service, can help you with the following:
Weekly Shopping – We love to take clients to the grocery store or neighborhood market. Few things are as enjoyable as the joy on a client's face as we go strolling through the aisles picking up groceries.
Medical Appointments – As already stated, the concierge can accompany an older person to medical appointments. The concierge can do the driving, make sure follow-up appointments are scheduled, get prescriptions to the pharmacy, and so on.
Car Maintenance – Some older folks dread taking the car in for routine maintenance because
they are afraid of being taken advantage of. In addition to providing the driving, companion services of this nature can give an older person the confidence he or she needs to make sure the garage does things right.
We have given you just three examples of how companion services can benefit older people. If you find yourself in a position of needing help while still maintaining independence, My Divine Concierge is available. We can provide the companion services you need to run your errands and keep your appointments.