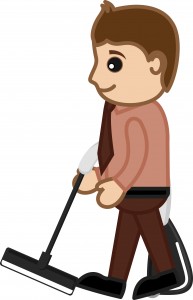 Former general and Army Chief of Staff Creighton Abrams once said, "When eating an elephant, take one bite at a time." His words have become an idiom of sorts, explaining the principle behind tackling seemingly insurmountable projects. Abrams' simple advice instructs us to keep plodding along, one step at a time, until we get the job done. We wonder if he knew anything about spring cleaning.
Cleaning up the old homestead after a long winter can be a daunting project for sure. Especially in light of the miserable winter we had in 2014/2015. Most of us just want to start getting outdoors for a little sunshine and warmth; the last thing we want to think about is spring cleaning. Yet it has to be done. Therefore, the best advice we can give is to look at the spring cleaning project as a big elephant that needs to be eaten.
Create a Schedule
If you're the type of person that prefers to spend every waking hour from Friday afternoon until Sunday evening to complete spring cleaning in one fell swoop, more power to you. However, there is another way to tackle the beast if you do not want to write off a complete weekend or two. You can create a spring cleaning schedule, either on paper or in your head, to gradually spread out individual chores over several consecutive weekends. You might even consider working on just one chore for an hour per evening until it is done.
The reason we recommend scheduling is very simple: scheduling increases the chances that you will get the work done within the time you plan. In so doing, you will also be reducing the chances that spring cleaning evolve into a long summer project.
A Family Affair
It takes an entire family to become disorganized and sloppy over the winter months. It should take the entire family to complete the annual spring cleaning project too. Make your spring cleaning a family affair by involving every one to his or her individual ability. Even the little ones can participate in some way. When everyone does a little bit, a lot gets done.
It helps when the individual family members play to their strengths. For example, dad might have tremendous organizational skills that would make him the perfect candidate to organize the garage and basement. Mom might be pretty handy with a toolbox. She could fix all those little things that need fixing. Obviously, there will be some spring cleaning chores that fall outside the scope of every family member's strengths. Those are the ones you just have to suck up and get done.
Reward Yourselves
We have found that putting rewards in place for completing spring cleaning chores works very well as an incentive. For example, assume that this Saturday the family will be tackling a painting project for the family room. Come up with a reward the whole family can enjoy as soon as the job is finished. Maybe go out for ice cream or visit a local attraction the family has been anxious to see.
If you need help with your spring cleaning project, do not hesitate to contact My Divine Concierge. We are experts in organization and cleaning. Whatever we can do to help get your house in order should enable you to finish your spring cleaning so that you can get outside and enjoy the lovely weather. We don't get much of that around here, so you might just as well take advantage of it.