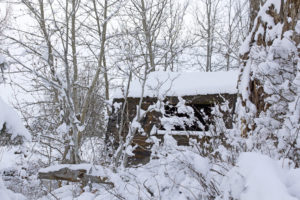 If you're not yet prepared to have a safe, comfortable and warm winter at home, now is the time to start working on things. Winter has already arrived in many parts of the Northeast thanks to a blast of cold air and snow that hit in mid-November. Here in New York, it's only going to get worse before it gets better.
Your safety and comfort this winter will depend on the preparations you make in advance. The more you do to protect yourself from the cold and snow, the better the next few months will be. Below are some suggestions that you can use to get yourself ready and to carry you through until spring returns in April.
Weather-Strip Windows and Doors
We Northerners are intimately familiar with the idea of cold air getting into the house through drafty windows and doors. The best solution is to replace older windows and doors with new energy-efficient replacements. But that's a job for spring and summer.
To get through this winter, weather-strip your windows and doors with some inexpensive adhesive weather-stripping that you can get from your local DIY store. Those who are feeling adventurous can enhance the weather-stripping using the clear plastic window wrap that you put over your windows before heat shrinking with a hair dryer.
Have Your Furnace/Fireplace Inspected
Annual furnace inspections should be the norm for every homeowner in the Northeast. An annual inspection is both affordable and helpful in making sure your furnace doesn't break down in the middle of the winter. As for fireplace inspections, please be safe and have yours inspected if you plan to burn wood this winter. Fireplaces and chimneys should be inspected for creosote buildup as well as any structural damage that could present a hazard.
Replenish Your Deicer Supply
Winter slips and falls related to snow and ice are very common in the Northeast, especially among our older friends. Now is the time to replenish your deicer supply in anticipation of the winter ahead. If you store your deicer in the garage or an outdoor shed, keep some deicer in the house so that you can apply it to your steps and walk while standing in the doorway.
Make Plans for Snow Clearing
If you're planning to clear the snow yourself this winter, make sure your snowblower is working properly or that you have at least a couple of shovels to work with. If you're planning to have someone else take care of things, get those plans in place now. Make sure whoever clears your snow keeps all first-floor doors accessible just in case there's a fire. Furthermore, insist that the snow is removed from the entire width of your walk and driveway, not just a narrow path.
Check Your Cold Air Returns
Your heating system has numerous cold air returns designed to help air completely circulate through the system. If your cold air returns are blocked, your furnace will have to work that much harder to keep the house warm. That's a waste of money and a good way to make sure you never really get warm. So take a moment to locate your cold air returns and make sure they are not blocked by furniture, plants, or anything else.
Have Your Car Battery Checked
Lastly, nothing is worse in the winter than being stranded with a car that will not start due to a dead battery. Take your car down to the local repair shop or auto parts store and ask them to put a tester on your battery. A battery that is slightly weak in warm weather could become completely useless in subfreezing temperatures. A weak battery should be replaced before the weather gets really cold.
The staff here at My Divine Concierge want you to have a safe and comfortable winter. If we can help through any of our concierge services, we would be more than happy to do so. Contact us for assistance in organizing, running errands, cleaning, or preparing for a move.