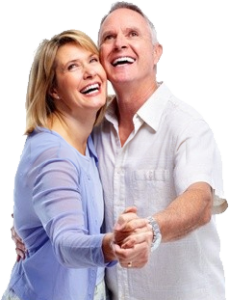 Gladys and Hank is an older couple enjoying a quiet, simple life in a retirement community along the Hudson River. Their days are filled with relaxing walks, visiting with friends and neighbors, and simply enjoying one another's company. However, things were not always this way. When we first met Gladys and Hank, they were weighed down with the responsibilities of caring for a big house that was filled with possessions but long since emptied of their grown children. They were longing for a simpler life.
What brought Gladys and Hank to the decision of simplifying and downsizing? A summer visit with their grandchildren. Grandma and grandpa were looking forward to that visit for months. They had planned to spend a lot of time with the grandkids going through old family photos and personal memorabilia. Gladys was looking forward to telling her grandkids what it was like to grow up in the 1950s; Hank had lots of memories about his career as a longshoreman that he wanted to pass on.
Though the visit was a good one, Gladys and Hank were not able to share as much with their grandchildren as they had wanted. The problem? They could not find all of the photos and antiques they had collected over the years. What's more, they could not remember what they still had and what they had long since given away. They came to the realization they had a house full of things they did not need. As for those things that were important to them, it was difficult for Gladys and Hank to locate them in a house full of decade's worth of belongings.
The Downsizing Dilemma
Gladys and Hank's decision to downsize was the right one for them. Nevertheless, it was not necessarily an easy one. They quickly discovered the downsizing dilemma faced by most seniors in the same position: having to go through their belongings to decide what to keep and what to dispose of. Fortunately, their personal concierge was able to help. Between the three of them, they went through the entire house room by room. The most important possessions were kept; what was not important was either sold, donated or thrown away.
As an interesting side note, Gladys and Hank were not so sure about being able to comfortably live in a two-bedroom flat when the downsizing process began. However, with all of their possessions being organized and sorted through, they discovered they did not really need so much space after all.
On moving day, the couple's concierge was there with a team bright and early. The entire house was packed, moved, and unpacked in under a day. For Gladys and Hank, the process was seamless. Their concierge did all the work while they enjoyed a day of sightseeing in the city.
The Simpler Life
These days Gladys isn't spending the majority of her time cleaning and caring for a big house. Hank doesn't need to spend endless hours keeping up the yard. And when the grandchildren come for their summertime visits, grandma and grandpa know exactly where all of those old photo albums and antiques are.
There is a lot to be said about adopting a simpler life in your retirement years. The simpler life allows older folks to enjoy each passing moment without having to worry about many things that consumed them during their younger years. We believe that is a good thing.
One of the things we enjoy most about offering concierge services is having the opportunity to help couples such as Gladys and Hank. We take great satisfaction in knowing that we have helped people transform the way they live simply by helping them prioritize and organize. Such a simple thing, and yet something that can make all the difference in the world. Are you ready for a simpler life?