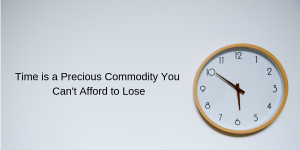 As you read this post, there are men and women working at investment brokerages around the world. They obsess over things like oil, natural gas, precious metals, and even orange juice. As valuable as these commodities may be, they all mean nothing in the end. But time is another matter. Time is a precious commodity you cannot afford to lose.
Time is something that can never be replaced. Once spent, it can never be recovered. And yes, all of us have only a limited amount of time here on this Earth. So how we use our time is extremely important. Enter My Divine Concierge.
Many of the services My Divine Concierge offers are intended to save time. Rather than spending time on certain kinds of tasks that do not necessarily require your direct attention, you can put that time into more important things by leaving those tasks to us. We essentially help you make better use of your time by helping you avoid spending it on things that really have no meaning.
We Can Run Your Errands
Running errands is a time-honored tradition all of us grew up with. Indeed, you might be old enough to remember a time when Saturdays were spent visiting the grocery store, dropping off clothes at the cleaners, and getting to the post office to pick up stamps. After work, mom or dad might stop to fill the car with gas or run to the drug store to grab a prescription.
All those things still need to be done in the modern era. Unfortunately, far too many people struggle to find the time. We are so busy with the busyness of life that the errands we used to take some comfort in have become a major annoyance.
The good news is that you do not have to spend your life chasing down undone errands. Let us handle those errands for you. We can do everything from grocery shopping to getting your car to the shop for inspection. And in so doing, we can save you precious time.
We Can Watch Your House
Sometimes the task of giving you back valuable time involves watching your house. Say you have a furniture delivery coming next Thursday. You dread the thought of taking paid personal time to be home because that time off could prove more valuable at a later date. Not a problem. We can hang out at your house and receive the delivery for you.
Maybe you are in the midst of remodeling project and you're not really comfortable with workers being in your home all day while you're at work. Once again, that's not a problem. We can check in on the work throughout the day or even spend several hours in your home doing basic household chores even as the construction workers go about their business.
We Give You More of What You Need Most
The two examples of running errands and watching your house are meant to illustrate a very important point: My Divine Concierge can give you more of what you need most. And that is time. The time we save you is time you are not spending doing things that are keeping you away from what is most important to you.
When you finally reach the end of life, you will not be thinking about oil futures or orange juice. You will be thinking about how you lived your life and, more importantly, how you spent your time. We do not want you to end up with any regrets. That is one of the reasons we do what we do.
Remember, time is a precious commodity you cannot afford to lose. We assume it is a commodity you do not want to spend foolishly either. So don't. Let us give you back some of your time by running your errands, watching your house, doing household chores, and anything else you can think of.