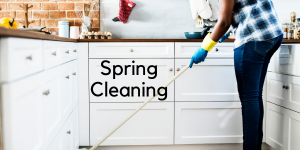 February is a light at the end of the tunnel for many people. Spring is in sight, and with it comes warmer temperatures and bluer skies. But don't forget that with spring also comes the annual ritual of spring cleaning. February is a great time to get a jump on it all.
Even as you are looking toward Valentine's Day and beginning to plan for Easter gatherings, you can do a bit of early spring cleaning. The more you get done in February and March the less you'll have to do come April. That will give you more time to get outdoors and enjoy all that spring has to offer.
Attack the Cobwebs and Dust
Forced air heating is a necessity of life throughout most parts of the U.S. But despite keeping us warm, forced air heat also creates a lot of dust. That's why cobwebs and dust piles tend to accumulate in high spaces during the winter months. February is as good a time as any to attack them.
You can get to cobwebs in a lot of creative ways. For example, do you remember that cardboard tube you stuffed back in the closet after wrapping Christmas presents a couple of months back? Stick it to the end of your vacuum hose and you'll be able to reach the top of your ceiling without having to stand on a stool.
When you're done, take that same tube and bend it in half. Wrap it with a damp rag and fit it back onto the end of your vacuum hose. You can then use it to wipe down the top of the ceiling fans and the kitchen cupboards – without the vacuum running, of course!
CO2 and Smoke Detectors
You probably checked the batteries in your smoke detectors and CO2 alarms when you turned your clocks back at the end of daylight-saving time. But did you clean the devices? If not, you really should. Any dust or dirt that accumulates on smoke and CO2 detectors can inhibit their effectiveness.
Cleaning is as easy as hitting them with a soft brush and then wiping them down with a damp cloth. Do not use any harsh cleaning chemicals though, as these could interfere with sensitive electronics.
Heating Vents and Cold Air Returns
Dirty heating vents and cold air returns not only spread dust throughout your home, but they also inhibit the efficiency of your furnace. Take one of those cold Saturdays when there's nothing else to do and use the time to clean those vents and cold air returns.
While you're cleaning, it's a good idea to check your furnace filter. A dirty filter forces your furnace to work harder than it has to. It is also less efficient at trapping dirt and dust. So if it's dirty, replace it.
Clean Up the Entryway
Whatever entrance acts as your main entryway during the winter has probably accumulated a large selection of stuff. We are talking boots, hats, gloves, outdoor tools, and even snow toys. Though you still might get a few shots of snow in February and March, it is time to take a look at the entryway to see if you can clean it up a bit.
Anything that doesn't absolutely have to be there can be put in its proper place. What remains can be organized neatly. Run a mop over the floor and address those salt stains on the door and floorboards with some warm, soapy water and a sponge.
We understand you cannot do all your spring cleaning until spring actually arrives. But if you handle the small tasks mentioned in this post now, you will be able to spend your spring-cleaning time on larger, more complex projects – like cleaning out the garage, for example. And by the way, do not be afraid to call on My Divine Concierge for help.