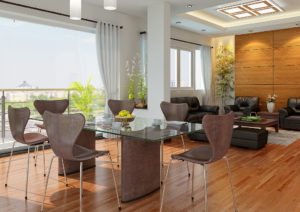 In previous blog posts, we discussed the importance of staging a home prior to sale. Staging presents a home in the best possible light in order to encourage potential buyers to think positive thoughts. Though staging does not guarantee a sale, it does help quite a bit. What many people don't know is how important a role color plays in the staging process.
As experts in staging ourselves, we know there are times when the first thing a homeowner has to do before listing is apply a fresh coat of paint. But even when new paint isn't necessary, there are often color issues when it comes to things like draperies, linens, furniture and accessories. Our job is to help clients eliminate color concerns for the best possible staging.
Bright Colors Are a Problem
How many times have you seen programs on television where potential home buyers talk about adding splashes of color as soon as they move into a new home? Probably more times than you can count. So why is it that real estate agents and professional decorators take the opposite view of color in a staging scenario? Because bright and non-neutral colors present a problem when selling.
The first concern is that there are different tastes and preferences when it comes to color. One person's bright and beautiful yellow is another person's blinding headache. Bright colors certainly add character and charm to just about any home. At the same time, though, they can be a turnoff to someone who doesn't like those particular colors or shades.
A home painted in bright colors or non-neutral colors will need a fresh coat of paint if is going to fetch the maximum sale price. The best choices are colors such as off-whites, grays, and creams. Neutral colors that are easy on the eyes take the edge off while at the same time offering a blank canvas to which the new homeowner can add his or her own splashes of color.
In homes where bright colors are not an issue on the walls, the homeowner still needs to be cognizant of brightly colored draperies and linens. Draperies and linens don't necessarily have to be removed or replaced, but they do have to be considered in light of what the rest of the room looks like.
Freeing up the Imagination
Bright colors are only the start of staging problems for professionals. Another issue is contrasting colors. In other words, you may not have any rooms with extremely bright colors potential buyers would find intimidating. But you may have a room dominated by a soft blue with just enough contrasting pink to make the space look like a carnival ride. The pink has to go.
The concern with contrasting colors is distraction. In other words, potential buyers are trying to picture themselves living in your home while walking through it. They are picturing where their furniture would go; they are looking for the perfect spot for that family heirloom. Contrasting colors can be so distracting as to prevent a buyer from truly tapping into his or her imagination.
Staging is all about freeing up the imagination so that potential buyers can see themselves living in that home. Transitioning to softer, more neutral colors eliminates one of the biggest distractions of staging. If you're planning to stage your home and a professional (hopefully that's us) recommends some different color choices, pay attention.