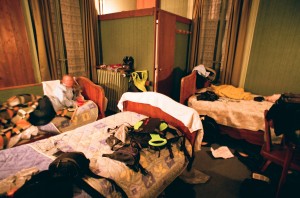 Throughout the last decade, the United States has seen a steady increase in the number of personal concierge agencies opening shop. Most of these agencies cater to the uber-wealthy, taking advantage of the fact that such individuals have the disposable income to pay for concierge services. Even the middle-class is now getting into the game.
If you lead an especially busy lifestyle, you might be a great candidate for a personal concierge. Remember that a concierge is almost like your own personal assistant able to help you with just about any task. Your concierge can:
plan and maintain your schedule handle paying your bills run household errands complete household chores schedule appointments provide transportation.
Virtually any task you can think of can be performed by your personal concierge. Of course, some agencies offer more comprehensive services than others do. If you need help organizing and handling your hectic life, here are the top five reasons you should consider hiring a concierge:
1. Time Management
It is no secret that Americans are finding themselves more pressed for time than ever before. Between working long hours, raising kids, and being involved in the community, it is getting a lot more difficult to take care of the little things. A personal concierge can help you make the most of your time by doing those things you do not have time to do yourself.
2. Personal Time
Along those same lines, it has been suggested that the average U.S. worker does not take the time to sit and relax during his or her lunch hour or other scheduled breaks. Instead, they use that time to do personal business. By hiring a personal concierge to take care of that personal business for you, you will be able to take your scheduled breaks and use them for the purpose for which they were intended: rest and relaxation. Otherwise, you are prone to adopting the never-slow-down attitude.
3. Thoroughness
Unfortunately, being pressed for time often means we are not very thorough in doing those things that matter the most. Having a cluttered house because there's no time to thoroughly clean is just one example. Equally unfortunate is the fact that most of us neglect those things that are closest to home. The personal concierge solves that problem by handling whatever tasks you assign, as completely and thoroughly as possible.
4. Organization
Perhaps the strongest point any concierge service can offer in promoting itself is the ability to organize your life. Disorganization is the hallmark of American families because everyone is constantly running and moving. However, with a little organization, most families are surprised by how smoothly things can run. A personal concierge can provide organization in a number of ways:
schedule planning and maintaining organizing and paying bills organization of rooms and storage.
5. The To-Do List
Most of us have a to-do list that never seems to get any smaller. In fact, it seems to grow exponentially every week. One way to make sure your to-do list actually gets done is to assign it to a personal concierge service. Just about anything that needs to be done can be done.
The key to making the best use of a concierge is to be choosy about the agency you select. Like in every industry, some concierges do better work than others do. Some also subcontract with other providers rather than handling everything themselves. If this is a problem for you, make sure you ask up front.
Before hiring a concierge, sit and interview the company owner. Make sure you also get, and contact, a number references. Lastly, be sure that you fully understand the pricing structure and how you will be billed for services. If you do your homework ahead of time, you should be able to find a personal concierge more than capable of making your life easier.
Contact My Divine Concierge for all your Concierge Services. We provide expert organizing services for the home and business, personal shopping, assisted living relocation services, and much more.